Surprises are the best thing in the world. Unless someone kidnaps you and calls it a surprise adoption. Well, in a good surprise, Deadpool 2 teaser just dropped in and you should be watching it on loop instead of wasting time reading articles about it. Ryan Reynolds shows off his butt in the unexpected teaser, and we won't judge if you set it as it your phone's wallpaper.
Well, if you are still here we have something to discuss. First up, the trailer was not probably supposed to drop in today. Earlier in the day, news broke that the first teaser of Deadpool 2 will be attached to the US prints of Logan 2. Fans in India and other parts of the world were sure disappointed. But not all superhero wear capes. Someone on the internet leaked the entire damn teaser on YouTube. Yep! So, the makers upped one and released the teaser legally on Ryan Reynold's channel. You don't mess with Dead-fu**ing-pool!
In the teaser we see Wade Wilson walking down the street…pretty woman…wait! We see Wade Wilson walking down the street -and he is still disfigured AF – when he sees a thug threatening a man with a gun. Wade won't let that happen on his watch. So, he sprints to a nearby telephone booth to change into his Deadpool costume. All this while Superman's theme song plays in the background. What happens next? Find out yourself:
Deadpool 2 has still not kick started it's production. This is just an announcement teaser that Deadpool 2 is indeed happening. Officially! Poor folks who thought Deadpool's part was done in X: Men Origins – Wolverine!
Hidden clues in Ryan Reynolds' Deadpool 2 teaser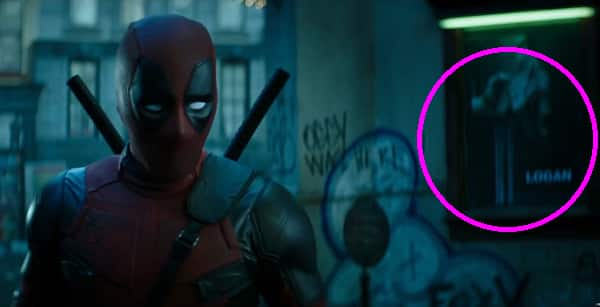 Yes! We know we just told you that Deadpool 2 teaser was just release. But there is so much more left to discuss. So, we are doing a round up of things that you should not miss in Deadpool 2 teaser trailer. 
Ryan Reynolds returns as Deadpool AKA Wade Wilson. This is not a teaser trailer for the release of the film. But just an announcement that Deadpool 2 is happening. To be honest, we are not even sure that the second film will even be called Deadpool 2. But we know that superhero flick will release on March 2. Yep! Calm down, it will release on March 2, 2018. The release is one year away. In the meantime we are breaking down the teaser for you, so that you can take in all the awesomeness of it.
Here we go:
Number 1, do not miss out the subtle dig taken at Superman throughout the teaser. First, when Wade Wilson decides to help the man in danger, Superman theme starts playing as background music. He sprints to a telephone booth to change into his Deadpool costume, much like Superman. There is 'Hope' written inside the telephone booth, and then as a graffiti on a wall. A clear nod at the meaning of S on Superman's chest. Also at the end of the teaser Deadpool jokes where he would get a telephone in this era. Plus 1 for meta!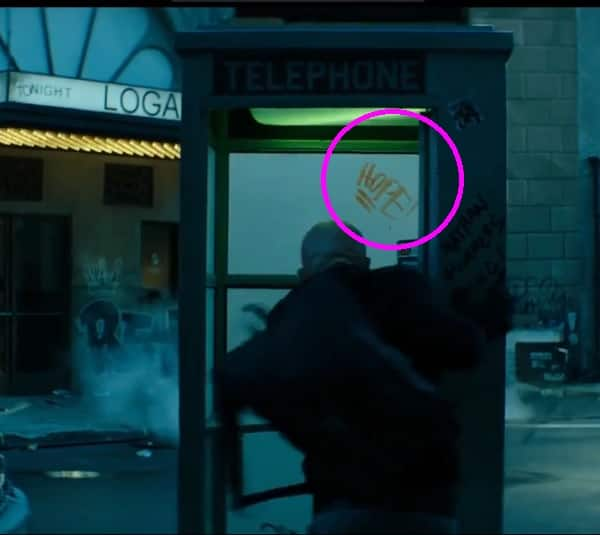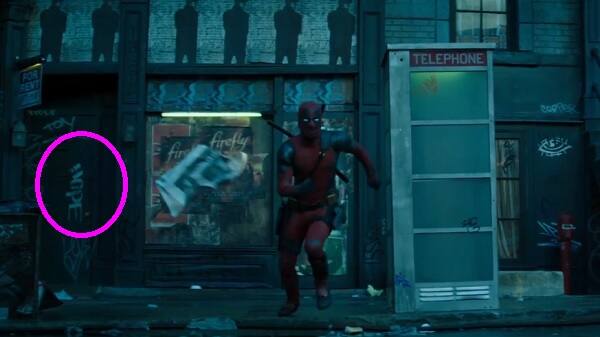 Number 2, Ryan Reynolds butt! We can't stress this enough. We don't know if that is actually Ryan Reynolds or his body double, but there is a butt, and you should not miss it. And probably the reason why the teaser could not make it to the India prints of Logan. Deadpool needs to meet Pahlaj Nihalani. Also Read: Deadpool 2 teaser has Ryan Reynolds' butt – watch video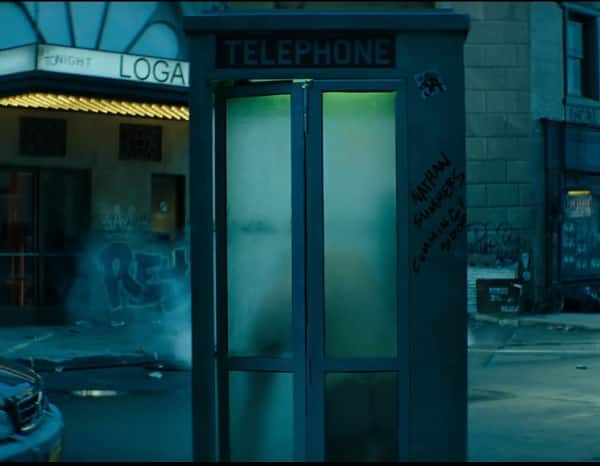 # Possible reveal of a new alliance is there in the teaser. On the telephone booth there is a text written that reads "Nathan Summers cumming soon". Nathan Summers is a X-Men character, son of Scott Summers AKA Cyclops. Like Deadpool teamed up with  Colossus and Negasonic Teenage Warhead for the boss battle, this time it might be Nathan Summers whose superhuman alter ego is Cable. And the actor playing Nathan Summers might be David Harbour, whose name appears in the description of the video.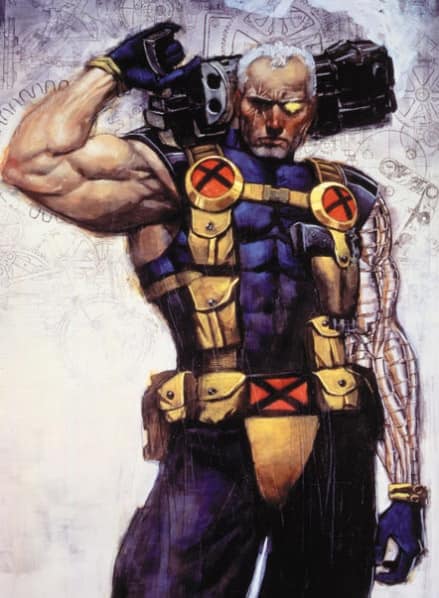 #Firefly posters are pasted across the walls. Firefly was a TV series that dealt with space adventures and starred Nathan Fillion. The series only lasted 1 season, but has a massive, like really really huge, seriously big, cult following. Now there is a theory doing rounds that Nathan might be playing the villain in the film. Or maybe he will play Nathan Summers.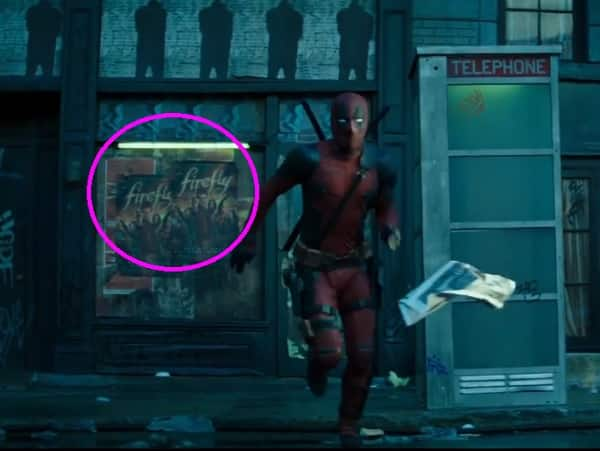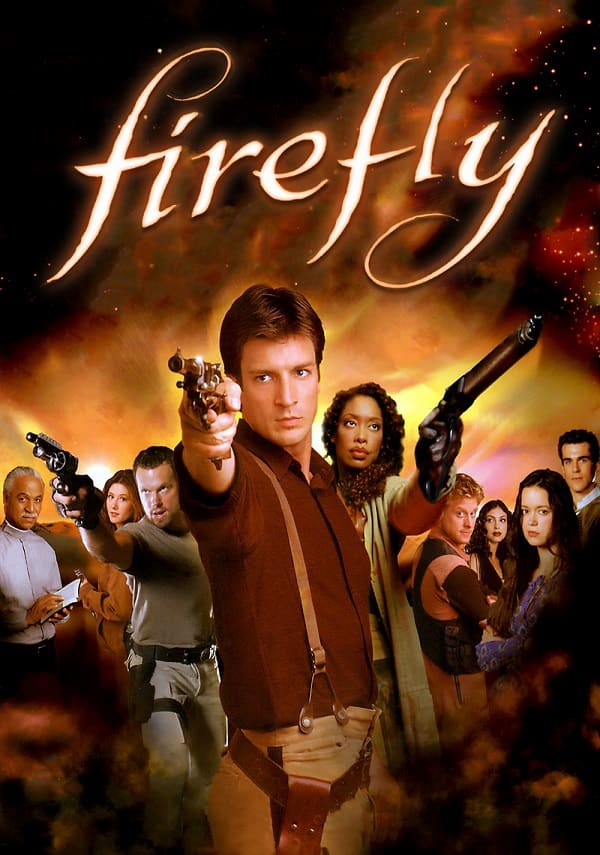 #Logan posters. In the theater behind the telephone booth we see the name Logan. Then the poster of Logan shows up in a later scene. A clear nod at Logan…duh…the movie with which the teaser is attached.
#Logan #Deadpool2 #Hollywood
Deadpool 2 teaser has Ryan Reynolds' butt