Shilpa Shetty Kundra is currently in San Jose, California. She is sharing a few details of her time in the city on Instagram. On February 27, she spoke at Google and Facebook headquarters, about the art of wellbeing. She even held a yoga class for the employees. And, she got the sweetest gesture from Google. An Indian cafe at the Google HQ remastered their entire menu and included dishes inspired from Shilpa's songs. What a treat is must have been for the people who ate at that cafe!
The menu included dishes like Kadhai Chole Ke Dil Ka Karaar Lootne, a name clearly inspired by Shilpa's song Dilwalo Ke Dil Ka Karaar Lootne. Then there is Barasja Ae Baadal Rice, named after Baras Ja Ae Baadal. Well, creative is what comes to our mind. Clearly, a lot of efforts have gone into impressing the actress.
The actress was very impressed by the aura of the Google HQ. "Shilpa was taken on a tour of Google and found it to be a city within a city. She was stunned at the kind of facilities that are offered to the employees there. Everything is free there – from food to spa, massages, dentists and vending machines where you get from the smallest to the biggest of things.", says a source.
During her stay in San Jose, she is set to attend a lot of events. She not only visited the Google HQ but also celebrated India Day with the basketball team Orlando Magic. She was introduced to the fans at the start of the game Atlanta Hawks on Saturday evening. During the game, she was also presented with a custom Orlando Magic jersey with her name on it.
Shilpa Shetty is a popular name on the international front. She rose to international fame with her stint on the UK reality show Big Brother. As a contestant on the show, she was subjected to racism by other participants. The show received backlash from all over the world. Shilpa went on to win the reality show. Since then she has been very popular for her beauty and fitness. Her Yoga DVD was a worldwide bestseller. No wonder she was invited by Google for a yoga session for their employees.
Shilpa has also been roped in as the brand ambassador of Swachh Bharat Abhiyan by the Indian Government. So, not just yoga sessions, also get ready to see Shilpa go on cleanliness drives over the city.
Diet Secrets of Shilpa Shetty
Some celebs actually grow prettier and sexier with aging and our mirror cracking beauty Shilpa Shetty undeniably is one of them. This 40 years old bollywood actress has come so far since the time we had seen her for the first time in the movie Baazigar (1993) to her being judge of Nach Baliye season 5 and 6. There has been a drastic transformation in her personality and appearance. Nobody can ever forget her dance moves, flaunting her curvaceous body from the "Shut up and Bounce Babe", song of the movie Dostana.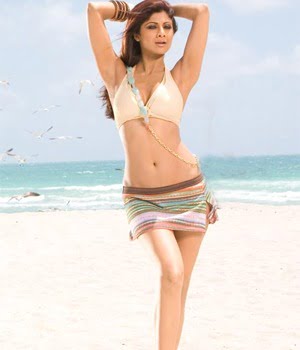 She gave birth to her first child, son Viaan in 2012. During her pregnancy, she bulked up 31 kgs, credit goes to her high fat diet which included ghee, milk and other fatty products. She ate everything and imagined that she would never be able to lose that weight. Losing postpartum weight is quite unnerving for almost every women but Shilpa Shetty managed to regain her pre-baby body in just few months. Instead of keeping her secrets of incredibly toned figure and trimmed waist to herself, she preferred sharing her wisdom on health and fitness with the world and has launched a book, titled, "THE GREAT INDIAN DIET", co-authored by nutrition and fitness expert Luke Coutinho.
The book is Shilpa Shetty's effort to bring the focus on the Indian kitchen for fitness. "I have tried to bust pre-conceived notions about Indian food. People think Indian food is fattening and high on sodium, which is untrue. A simple dish like rajma chawal is a complete meal; it has the right amount of protein, nine amino acids; it's equivalent to eating an egg. But people are tucking into quinoa instead," she explains. This book guides people on healthy weight loss. These days everybody is so weight obsessed that they forget about focussing on health. That's what the book brings to focus. The book stays true to our Indian roots and will also include details of diet and fitness principles that Shilpa follows in her day to day routine.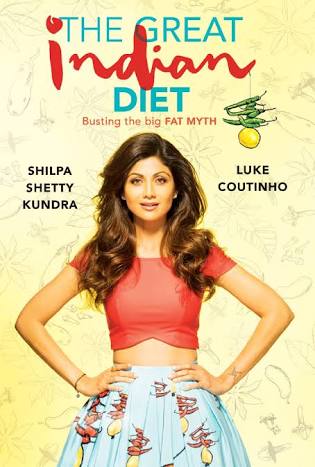 DIET SECRETS OF SHILPA SHETTY
To keep herself fit, slender, skinny and healthy, this sensational actress – entrepreneur is strictly against dieting and rather focus on having wholesome balanced diet. Shilpa fuels her body with carbs which are low in G.I. ( glycemic index). Avoid white carbs and include brown carbs like brown ( rice, pasta, sugar, bread) in her diet. She prefers olive oil for cooking and after her workout session, consumes protein shake, 8 black raisins and 2 dates. She loves taking green tea and stay away from sugary fizzy drinks. Fit and fabulous Shilpa abides by discreet diet for 6 days and relishes one cheat day in a week to enjoy her cravings for sweet foods.
Being a nursing mother, she consumed 2200 calories in a day which were comprised of low carb, high protein and high fat food items but now her daily calorie intake has come down to 1800. To further aid her healthy eating habits, she does not eat after 8 pm and ensures her last meal is consumed atleast 3 hrs before bedtime so that her body is able to work off the calories.
FOOD CHART
Breakfast
Starts her day with Hot water and a plate of papaya with lemon on empty stomach.
Shilpa whips up different juices every day, such as red juice (pomegranate, apple carrot, and beetroot, tomato and green apple), green juice (cucumber and spinach).
Cup of milk tea.
Porridge or Two whole eggs – omelette, boiled or scrambled.
Lunch (her heaviest meal of the day)
Rice or two Rotis ( made of 5 different kinds of grains ) with two teaspoons of ghee, vegetables, dal, fish (she has quit chicken due to the fear of the birds being fed with toxic antibiotics and steroids) or egg bhurji. She ends her meal with a piece of jaggery
Evening snacks (if time permits)
Snacks such as makhanas sautéed in ghee with salt and pepper
A glass of slim dahi buttermilk.
Two eggs, if the day starts early.
Or just a cup of tea with brown sugar (Shilpa can't live without two cups of tea daily)
Dinner (before 8 pm)
Sour Soup for proteins.
Stir-fried vegetables or paneer.
Turkey slice / Salmon steak.
Her Cheat Day is SUNDAY, when bhajiyas, batata wada, biryani and rasgullas are allowed.
#ShilpaShetty #Bollywood
Google's menu was designed keeping In mind that Shilpa Shetty loves Indian food