Rishi Kapoor has been in the news a lot lately, be it for lashing out on Anurag Basu to calling Gandhis Baap Ka Maal. Somehow he just says the wrong things, but just when he lashed out on Twitter today against Gurmeet Ram Rahim Singh, Radhe Maa and other godmen people loved him back.
But Chintkap can't be away from controversies at all and he took to Twitter to share a funny meme:
Smart Alec! pic.twitter.com/E63Z2F5t2H

— Rishi Kapoor (@chintskap) August 26, 2017
Advocate Adil Khatri, the general secretary of a certain Mumbai based NGO launched a complaint to the Mumbai Police Cyber Cell and also the Ministry of Woman and Child Development against the veteran actor Rishi Kapoor for posting a nude and pornographic image of a child on his Twitter handle. Khatri is of the opinion, 'Rishi Kapoor has been playing with cyber laws for too long.'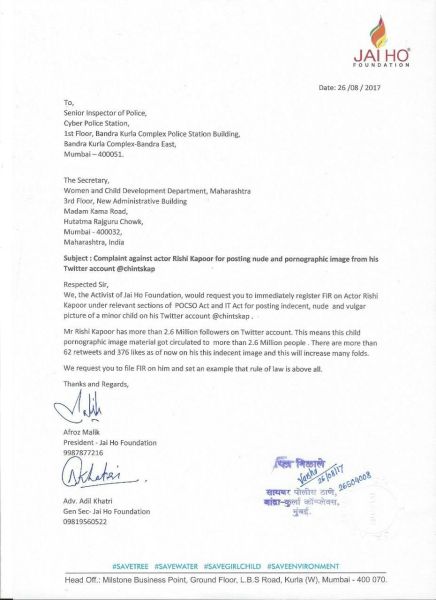 Also read: DEEPIKA PADUKONE AND RANVEER SINGH COULDN'T TAKE THEIR EYES OFF EACH OTHER LAST NIGHT!
We wonder doesn't he stay in news for all the good he does. Just today he took to twitter lashing out angry comments on the Gurmeet followers. He said:
Attach all Dera properties and sell them to compensate the national loss by arson and vandalism. Shame Gurmeet followers. No respect for you pic.twitter.com/Tgl03SYTpt

— Rishi Kapoor (@chintskap) August 25, 2017
Actually, he's against all the fake Godmen who use the blind faith of innocent people to fool them. He said:
Frauds.Blind faith in con people.Government must punish these fraudsters.Sukhwinder Kaur(Radhema)Gurmeet,Asaram,Nityananda.All Criminals! pic.twitter.com/1Sm2gqagBq

— Rishi Kapoor (@chintskap) August 25, 2017
Ahh, we really hope you use twitter wisely Mr.Rishi Kapoor and we hope people like Mr.Khatri develop a little sense of humor.