We just found Shashi from Phillauri haunting the Oscars 2017, so we decided to dig deeper. Shashi was not there just at the Oscars but we found her haunting quite a few people and places. Diljit was being haunted by her at Radio Mirchi office. But funnily we found her hovering over Virat Kohli's Instagram. Whoa! Spooky! Well for a beautiful ghost like her – we are sure no one would mind being haunted.
If you still don't know what the fuss is all about, then here is a rundown. Anushka Sharma's next production venture is Phillauri. The plot of the film revolves around Anushka's ghost, who believes that she has been accidentally married to Suraj Sharma.
She begins haunting his life, and family, and comical situations erupt. Diljit Dosanjh also stars in the film and plays Anushka's love interest before the whole death thingy got to her. Now, that is one hell of an interesting plot, and the crew is coming up with unique ways of promoting the movie. One such tactic includes Diljit talking to empty space, and the hashtag Shashi was there haunting the frame of the photos and videos (Shashi being Anushka's name in the movie).
Well, you might not see it but that was an opportunity for us in plain sight. We decided to go through her beau Virat Kohli's pictures and play with 'em a little. Giving a Bollywoodlife twist to the promotional campaign, we put Shashi in the pictures. And, the results are hilarious.
With your sense of humour intact, cheggit out!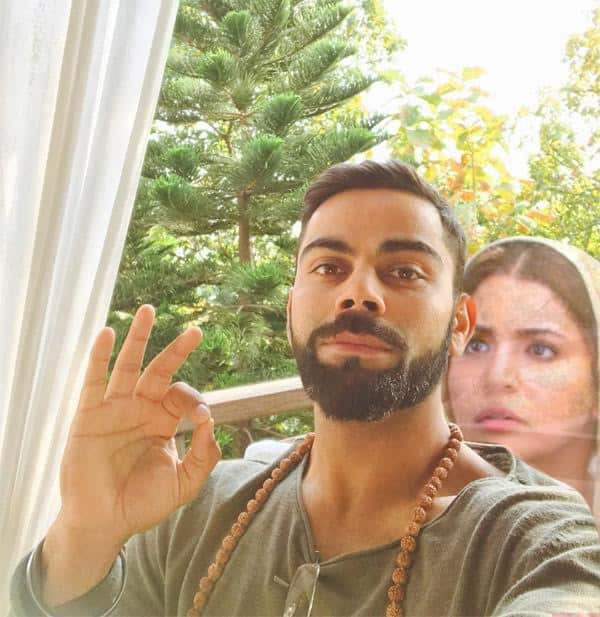 What did she say?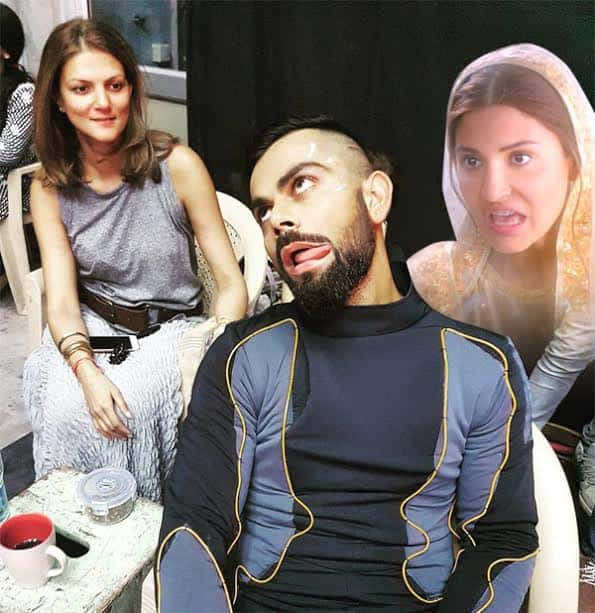 What is he thinking?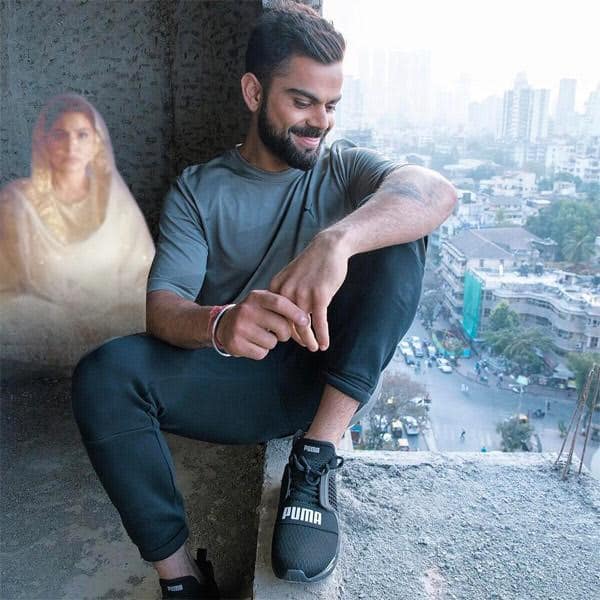 Watching Virat work out must be very inspiring and a treat for the eyes…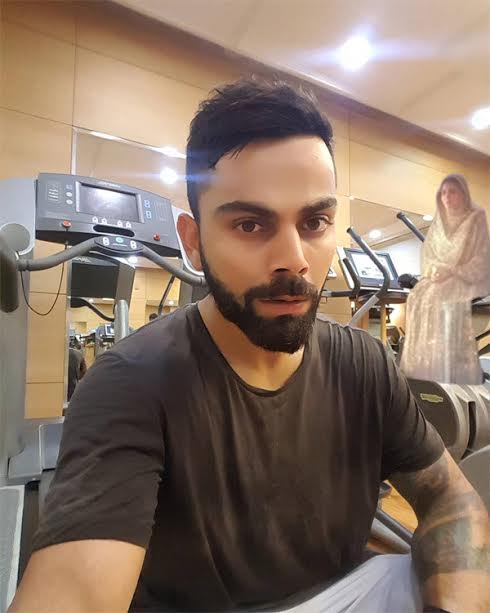 The game is on…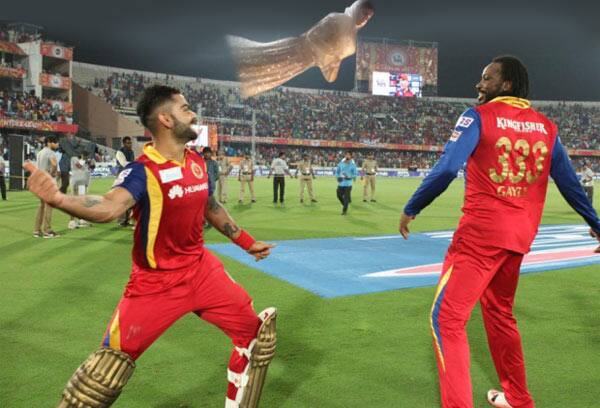 Shashi loves photobombing Virat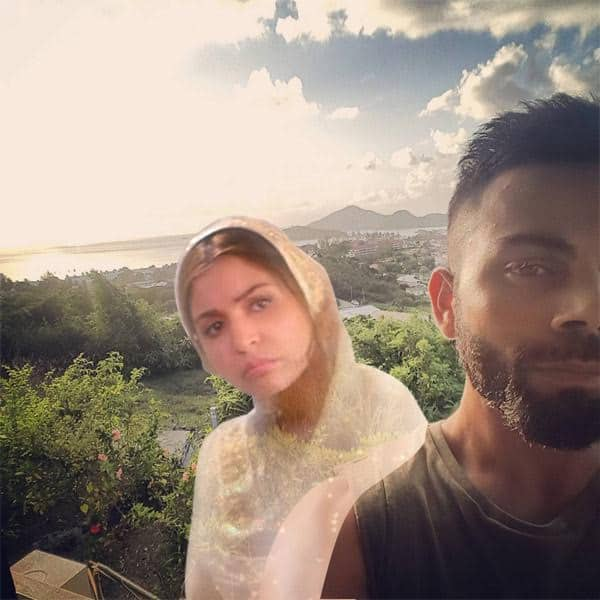 #ShashiWasThere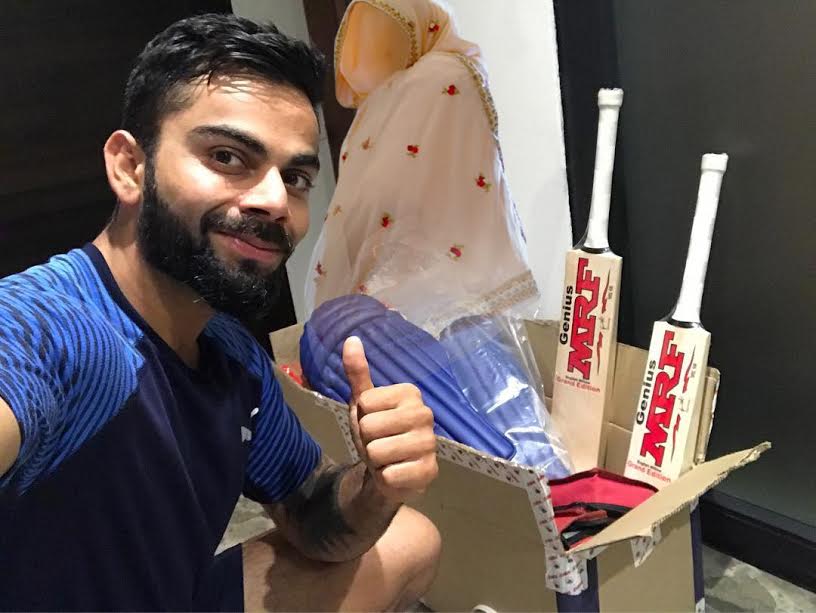 In another marketing strategy, Anushka will be in direct contact with her fans. Since she is playing a friendly neighbourhood spirit in the movie, to take this thought forward, she has got a personal phone number registered in the name of Shashi – the character from the film that she is playing. She will be available to interact with fans through WhatsApp's Video Calling feature. The number is 9867473178. The fans will need to add Shashi on their Whatsapp contact and they will have direct access to her. The number will be constantly used by her through the campaign of Phillauri to engage with her fans who will get exclusive access to film's promotional content too, the statement read.
Disclaimer: The above article is meant to be taken in a light manner. Sometimes, a little laughter is seldom a cause for worry!
Virat Kohli Hearts Anushka Sharma: A Timeline Of Their Romance
On Wednesday, cricketer Virat Kohli made full disclosure on social media. He posted a Valentine's Day message for actress Anushka Sharma, some hours late but very warmly received nonetheless – warmly received by the Internet, that is. Virat's post has since received 927,781 likes and counting. It's not the first time the couple have acknowledged the romance nor is it the first time they are doing so on social media. But a glance at Virat's post, below, will make it clear why the Internet is so delighted and has furiously resumed speculating about wedding dates. Virat Kohli, 28, and Anushka Sharma, 28, have been dating since 2013 with a brief interruption last year. Virat's adorable post-Valentine's Day picture is addressed to Anushka and reads: "Every day is a Valentine Day if you want it to be. You make every day seem like one for me." Aww.
Double aww.
Traveling back, the very first time Virat confirmed his relationship with Anushka was way back in 2014, when he told the press that they were not "hiding anything," reported PTI. "It is out in the open. We are not hiding anything; we are not trying to hide anything. I don't want to hide anything," Virat had said. The two made their first public appearance together in November 2014 when they were spotted cheering at an Indian Super League football game in Pune. Anushka also flew down to Ahmedabad to be by Virat's side on his birthday – he was in the middle of India's ODI series with Sri Lanka. Earlier that year, Virat was reported to have spent Anushka's birthday with her in Udaipur, where she was shooting for NH10.
Soon, Virat and Anushka made headlines for their epic 'flying' kiss. In 2014, Virat became the quickest batsman to score 6,000 runs in ODIs after he played a match against Sri Lanka. He kissed his bat and then blew a kiss at to Anushka, who was sitting in the stands. Anushka responded with a standing ovation.
Just watched #NH10 and i am blown away. What a brilliant film and specially an outstanding performance by my love @AnushkaSharma. SO PROUD:)
But the high profile romance invited ugly undertones. Anushka was repeatedly blamed and trolled each time Virat underperformed on the pitch. In a 2015 media interaction, Virat made it clear: "The stuff that happened after the World Cup semi-final, the way people reacted towards my personal life and Anushka in particular, was really disrespectful. I want to put this out in public because at the human level I was really hurt and wanted to express that for quite a long time."
In July 2015, a lovelorn Anushka told NDTV: "He's my very, very good looking arm candy." Virat and Anushka's romance sailed a smooth course through the year but in early 2016, fans noticed that the cricketer had unfollowed Anushka on social media. Rumours of a split appeared to be confirmed when Virat Kohli posted, deleted and reposted a picture he had originally captioned 'Heartbroken.'
In March 2016, right after India reached the semi-finals of the World T20 championship, Anushka was trolled again about Virat's pitch result. He jumped publicly to her defence. In a tweet with a picture of the word 'SHAME,' Virat said: "She has always only given me positivity." Virat's tweet recorded the highest number of re-tweets in 2016.
Shame on people for trolling @AnushkaSharma non-stop. Have some compassion. She has always only given me positivity
The tweet prompted talk of a reunion. Within months, the two were spotted making appearances together. Apart from catching up on dinner dates, Virat saw Anushka off when she left for her Budapest schedule of Sultan. Ahead of the film's release, Anushka also treated Virat to a special preview of the wrestling drama, co-starring Salman Khan. Virat, who was busy training for an upcoming tournament in Bangalore, was in Mumbai for a few hours just for the Sultan screening. Virat also accompanied Anushka to Chandigarh for a brief while, where her new film Phillauri was being shot.
In December last year, Virat and Anushka dismissed rumours that they weree getting engaged, calling the reports "false and confusing." Virat posted tweets, which said: "We aren't getting engaged and if we were going to, we wouldn't hide it. Since news channels can't resist selling false rumours and keeping you confused, we are just ending the confusion." According to the rumours, Virat and Anushka were about to get engaged in Uttarakhand, where they were holidaying on New Year.
Virat and Anushka celebrated Christmas together in Dehradun and were spotted arriving at the Dehradun airport. They were welcomed by Uttarakhand Chief Minister Harish Rawat in a tweet.
Virat Kohli and Anushka Sharma also arrived as special guests at Yuvraj Singh and Hazel Keech's destination wedding in Goa in December last year.
The stylish duo made a couple's entry at Manish Malhotra's birthday party later that month. Virat and Anushka were patient with the cameras and posed cheerfully together.
Anushka recently denied reports suggesting her cricketer boyfriend is producing Phillauri.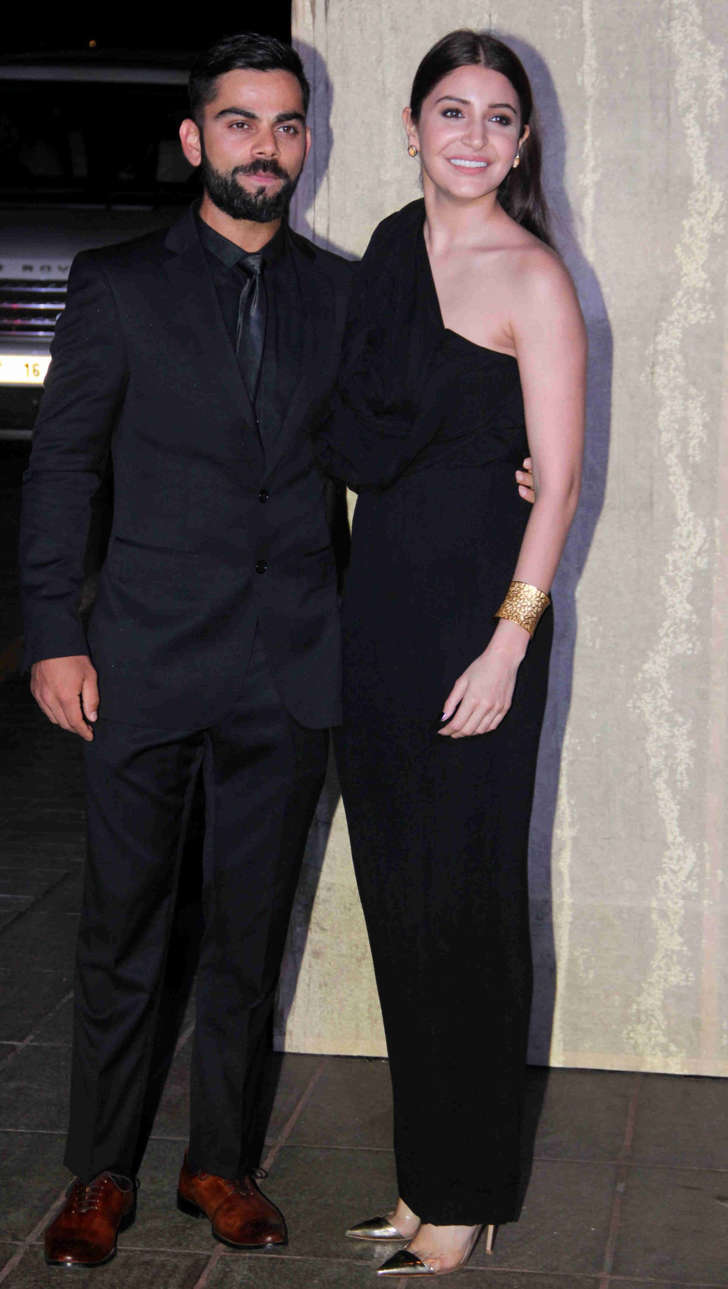 In a strongly-worded tweet, she wrote: "By making such bogus claims and validating this rubbish by a so called 'source,' not only are you disrespecting me and the hard work I have put in over the years to be where I am, but also, all the people who have worked on this film."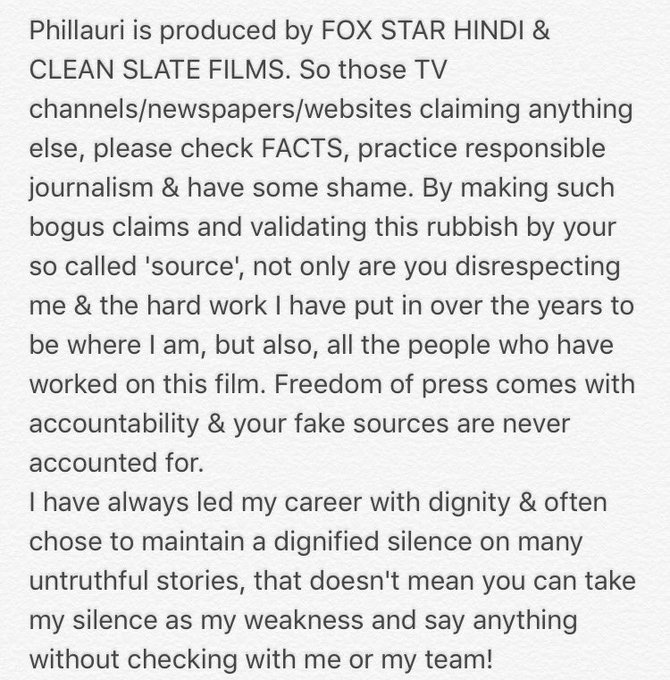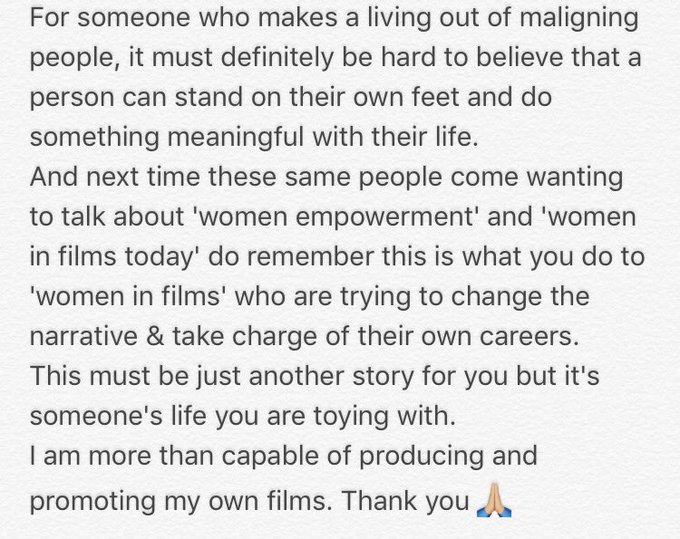 Anushka Sharma @AnushkaSharma
Putting to rest some rumours that have been doing the rounds for some days now.
#Virat #ShashiWasThere #Bollywood
Virat Kohli's #ShashiWasThere has taken over your Instagram account